Microsoft Outlook formats
Aid4Mail can access both local Outlook files and remote Exchange accounts. Local formats include PST, OST, OLM (Outlook for Mac) and MSG files. Exchange accounts can be accessed via an existing Outlook profile, the Microsoft Graph API or the IMAP protocol. Note that Microsoft email accounts like Microsoft 365 (formerly Office 365), Outlook.com, Hotmail, Live, and MSN all run on Exchange servers.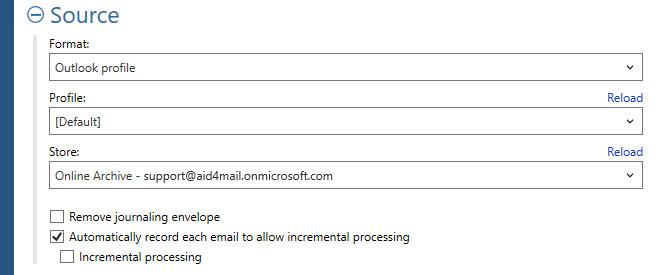 PST and MSG files can be processed with or without using Microsoft Outlook (MAPI). The option using Outlook is much faster and preserves more metadata (like email status information—read, replied, flagged). The option without has the advantage of not requiring an Outlook installation on your computer and can sometimes even process damaged files.
When converting to a PST file, you can set the maximum size for the file. On reaching this limit, Aid4Mail will automatically send the overflow to a new PST file with the same file name but with an index number added. For example, if you have 17 GB of mail and you've limited the PST file size to 5 GB, you will end up with four target PST files: The first three will each contain 5 GB of mail with the fourth containing the remaining 2 GB.
Note that target Outlook formats in Aid4Mail Converter are limited to PST and MSG files. If you want to migrate mail directly to an Exchange account, you will need our Enterprise edition.
Cloud-based accounts
Aid4Mail integrates a very robust implementation of the IMAP protocol. This gives you the ability to collect email from a large number of service providers including Gmail, Microsoft 365 (formerly Office 365), Outlook.com, Yahoo! Mail, AOL, GMX, and iCloud.
In addition, you can access any email account managed by popular IMAP server software like Dovecot, Courier, and Zimbra. Aid4Mail also includes support for the ProtonMail IMAP Bridge application.
You have the option of accessing Gmail accounts securely via the Google API and Exchange accounts (Microsoft 365, Hotmail, …) through Microsoft's Graph API. Both of these methods rely on the secure OAuth 2 authentication protocol.
If you have access to an IMAP account via the FTP protocol, you can speed up email processing by downloading the account files locally. Aid4Mail supports files based on the Maildir and mbox formats. You can also speed up processing of Gmail accounts by using Google's Takeout feature.
Note that Aid4Mail Converter only supports cloud-based accounts as a source format. If you need to migrate mail to a cloud-based account, you will need our Enterprise edition.
Local mailbox formats
Aid4Mail can extract mail from the following file formats:
Generic mbox files (mboxo and mboxrd variants)
Mozilla Thunderbird and SeaMonkey
Google Takeout mbox files
Maildir and EML files
EMLX files from Apple Mail
PST, OST, OLM and MSG Outlook files
Thunderbird and RFC 1521 emails with detached attachments are also supported.
Aid4Mail integrates a sophisticated mbox parser that is used to extract emails from Thunderbird, Google Takeout, and generic mbox files. It is able to handle a large variety of mbox and MIME format errors within the mailbox file. As a result, Aid4Mail can find emails that other products either miss or incorrectly merge with the preceding message.
You can export mail to mbox, EML, Thunderbird, SeaMonkey, PST and MSG, as well as archival and database formats (see next section).
During conversion, Aid4Mail can accurately restore the folder structure (including from labels in Takeout files) and email status information when available. This is rarely the case with competing products.
Note that Aid4Mail Investigator adds the ability to collect emails stored in disk images, forensically-extracted unallocated disk space, and mailbox files based on formats not officially supported. Aid4Mail Enterprise adds the ability to collect emails stored in archival files from Google Vault, Mimecast and Proofpoint.
If you need to process Outlook Express, Eudora, Pegasus or another legacy email formats which are not currently supported by Aid4Mail, please contact us to see if we have a solution that will allow you to process the email files.
Archival and database formats
Aid4Mail offers several special export formats. These can be used to archive mail, or for viewing messages without an email app, or as an intermediary format to import messages into a database.
The PDF format is probably the most popular in this category. It is used by law firms and professionals in the field of eDiscovery, auditing and litigation. You have the option to create archivable PDF/A, press-ready PDF/X, and standard "full" PDF documents. The message text is fully searchable in these formats. Options allow you to configure page headers and footers with page numbering, Bates stamping and other information.
Emails exported to PDF are rendered in rich text format, appearing as they would in a mail app. Attachments are stored separately in their native format, relative to the PDF file, and accessed through a link from the PDF document. You also have the option to embed attachments in the PDF document. Aid4Mail lets you create one PDF per email or merge all messages into a single PDF file.
If you prefer, you can use Plain Text as an alternative to PDF. Emails are converted to regular Unicode text (paragraph and character formatting is removed) and embedded contents (like pictures) and attachments are stored separately in their native formats. Your messages can then be opened for viewing and searching in any text editor, and take up less space than PDF files.
CSV (comma-separated values) and TSV (tab-separated values) formats are useful for viewing in Excel or for importing into a database program. Aid4Mail lets you configure the contents, including metadata and the message text. If you choose to include email attachments, they are stored separately in their native format and their file location is added to the delimited data.
The XML format is typically used for long-term archiving. It is a popular solution with national libraries. As with CSV and TSV formats, you can decide which metadata to include in the XML file; attachments are stored separately in their native format and links to them are saved in the XML file.
Finally, with the HTML format, emails can be viewed in any web browser and rendered as they would in a mail app. Attachments are stored separately in their native format, relative to the HTML file and accessible from the email message.
Aid4Mail enables you to customize the HTML data and offers a convenient viewer. You can filter emails by folder and keywords. Keyword filtering is based on matches in the date field, subject line, sender and recipient.