Aid4Mail is designed to collect email from a large array of sources including local files, remote Exchange and IMAP servers, and cloud-based services like Gmail and Microsoft 365 (formerly Office 365). Aid4Mail can handle locally-stored mail accounts, mailboxes and email files, even when disconnected from their mail program. They can be stored on internal, external or networked hard drives, or on other media like DVD and USB devices, or mounted disk image files. Aid4Mail can even read mail files from Mac and Linux systems without prior format conversion.
A major benefit of Aid4Mail Investigator over Converter is that you gain access to delegate, shared and public accounts as well as hidden MS Exchange folders. These hidden folders are where Microsoft stores "Recoverable Items"—the location where "permanently" deleted emails land. In other words, this is where you can recover clues that a custodian may have tried to destroy.
During email collection, Aid4Mail is able to restore the original folder structure in target formats like PST, MSG and EML. It can also collect and preserve valuable metadata like email status information (Read, Replied, Starred) and key MAPI properties.
Aid4Mail includes a powerful forensic carving tool that can extract MIME emails from any kind of file, including:
Uncompressed disk images (DD, E01, AFF, …)
Forensically-extracted unallocated disk space
Mailbox formats not officially supported
Corrupt mail files
The carving algorithm works without relying on a file's internal structure, the disk image's Master File Table (MFT) or data placement markers. The only requirements for successful retrieval are:
The email is in MIME format (even if incomplete)
Its MIME parts are stored contiguously and sequentially
It is not stored in a compressed or encrypted container

For more details on the types of source formats you can process, see the "Supported Mail Formats" section on our Aid4Mail Converter page.
Pre-acquisition searching
When accessing Gmail, Microsoft 365 (formerly Office 365), MS Exchange and IMAP accounts, or PST files, you can use native pre-acquisition searching to limit the scope of collected emails. This works by filtering mail directly on the server prior to downloading. By narrowing the date range, and including specific keywords and message properties in your filtering criteria, you can significantly speed up collection and acquire a higher ratio of responsive emails.
Recover double-deleted messages
Double-deleted messages (also called unpurged mail) are emails that are no longer visible in your mail app but can be recovered with specialized software. These are typically emails that were sent to the Trash folder, then the Trash was emptied but the account was not purged (or compacted).
In cases of suspected spoliation, forensic investigators need the ability to recover double-deleted messages if available. This is where you are likely to find responsive documents.
Aid4Mail Investigator is able to recover unpurged mail from:
IMAP accounts
"Recoverable items" in MS Exchange accounts (like Microsoft 365 and Outlook.com)
Mbox files (including from Thunderbird)
Apple Mail (EMLX files)
Maildir stores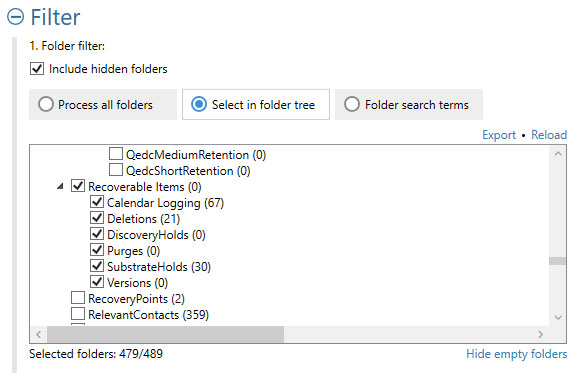 Aid4Mail can also recover mail from deleted files by searching disk images and their unallocated space—including drives that have been wiped clean by "quick" formatting.
Remote authentication made easy
Collecting email from cloud-based custodian accounts typically means you either need their login credentials or their presence at your side to perform the login. We have solved this problem by offering a free stand-alone utility called Aid4Mail Remote Authenticator. Your custodians can download it from our website and run it without installation.
Aid4Mail Remote Authenticator provides easy-to-follow instructions that help custodians fill-in their account details and login credentials. With your agreement, custodians can also set how many days they grant access to their accounts.
On completing the authentication process, an encrypted token file containing the account details is created. Your custodian sends you this file. Once you receive it, simply import it into Aid4Mail and you can securely access the custodian's account during the valid period.