If your work involves email forensics or eDiscovery, or you need powerful email search and filter capabilities, then Aid4Mail Investigator is ideal. It includes all the benefits of Aid4Mail Converter with additional tools to find relevant emails. It also accelerates email processing even further.
The new filtering capabilities in Aid4Mail Investigator far exceed those in Aid4Mail 4. And they're more user-friendly, offering the same email search operators as Gmail, Google Vault and Microsoft 365. You can now search any part of an email including attachments and deeply embedded contents. Even file metadata like EXIF and IPTC information contained in pictures.
Suppose you're searching for text in a PDF file that's contained within a ZIP archive, attached to an email that is itself the attachment of another email. Aid4Mail 5 will find it!
You'll find helpful filter operators to skip duplicates, emails originating from mailing lists, bulk mail and notifications—essential tools to cull redundant and irrelevant emails before review.
If you need more advanced search features, Aid4Mail gives you full control through Python scripting. Extract and search text from images using Python OCR modules. Or use Python image analysis to detect nudity in photos. The possibilities are endless…
Aid4Mail Investigator also supports native Gmail, Google Workspace, Microsoft 365, IMAP and MAPI filtering for even faster results—only emails matching the query are downloaded by Aid4Mail. This feature alone results in significant time and cost savings.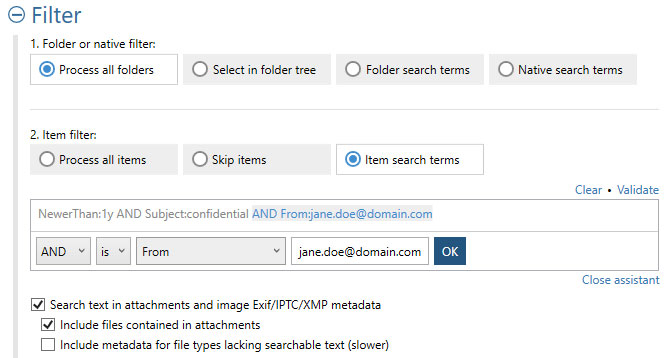 Aid4Mail adds a forensic carving tool that can extract MIME data from any kind of file, including:
Uncompressed disk images (DD, E01, AFF, …)
Forensically-extracted unallocated disk space
Mailbox formats not officially supported
Corrupt mail files
The carving algorithm works without relying on a file's internal structure, the disk image's Master File Table (MFT) or data placement markers. The only requirements for successful retrieval are:
The email is in MIME format (even if incomplete)
Its MIME parts are stored contiguously and sequentially
It is not stored in a compressed or encrypted container
Another key feature for forensic investigations is access to unpurged emails in mbox files, IMAP accounts and "Recoverable items" in Exchange accounts (e.g. Microsoft 365, Outlook.com). Aid4Mail Investigator is able to extract emails that have been deleted—even after an account's Trash folder has been cleared (but before a purge operation). This capability is invaluable to recover clues that a custodian may have tried to destroy.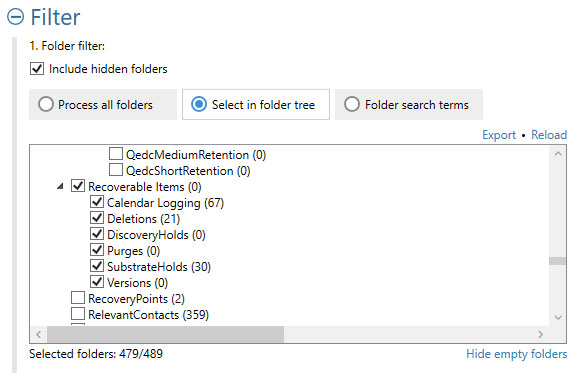 Last but not least, you can speed up processing even further by running multiple conversions simultaneously. These can either be totally independent conversions, or share the same source or target, or both. For example, you can merge emails from multiple sources into a single PST file. Or split a single source file into multiple target files. Or apply multiple search criteria to a single mail store, saving the results in different folders within the same PST. All at the same time.
Other features not mentioned above
Reorganize emails by account.
Add missing metadata to target emails.
Access Public and Shared folders, as well as Delegate accounts.
Use word proximity operators, wildcards, and regular expressions in your queries.
Configure Bates stamping format through a large range of settings.
Customize target folder and file names using Python scripts.
Before deciding whether Aid4Mail Investigator is the right choice, please take a look at our Enterprise edition below. Depending on your set up, it may be more cost effective and adapt better to your work environment.