There is a reliable solution that doesn't have any of the above limitations but isn't free. It's called Aid4Mail Enterprise.
No limitations
Aid4Mail Enterprise is unique because it can read the archives delivered from Mimecast exports in their native format. This spares you from the time-consuming process of unzipping their contents.
You can speed things up further by configuring Aid4Mail to process all your Mimecast ZIP files concurrently. Choose how many conversions can be run simultaneously, based on your computer specifications, and then run them all. Aid4Mail will place them in a queue and start processing as many as it can, concurrently. When one is finished, Aid4Mail will start on the next one in the queue, and so on until they're all complete. Aid4Mail does all this unattended, while you're working on something else. An example is shown in the screenshot below.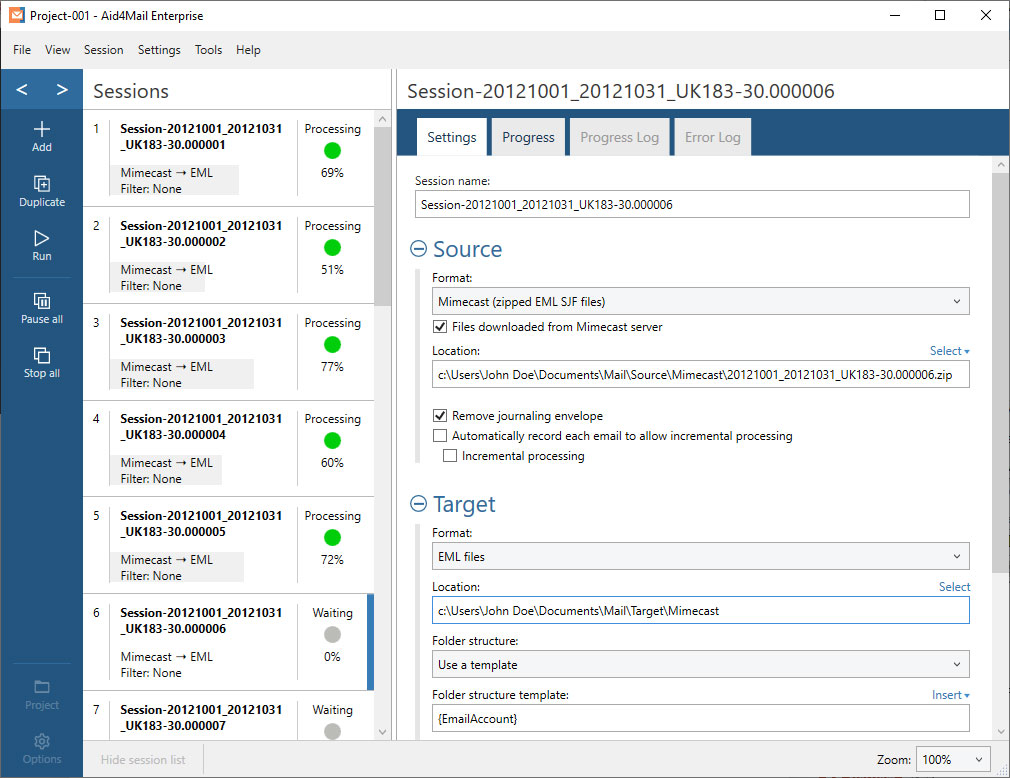 You can migrate Mimecast archives directly to live accounts like Microsoft 365 (formerly Office 365) and Google Workspace (formerly G Suite), or to PST files for convenient local access.
If emails are grouped by date range and not by user account then Aid4Mail can separate them during conversion. Thanks to its sophisticated template-based folder naming feature, Aid4Mail can reorganize your mail based on the account's email address. The result is a folder for each user account with its emails grouped together under it.
If remote journaling was used, Aid4Mail can automatically remove the journaling envelope from emails during conversion to your target format.
Speed
You'll love Aid4Mail's speed. A client had an archive containing 3,284,983 emails totaling 985 GB. They used Aid4Mail to extract and reorganize the EML files by account holder. The whole process was completed in just 7 hours and 26 minutes. That's a rate of 122.7 emails per second!
If you are migrating to Microsoft 365, you will probably be best off converting your messages to PST files (one per account) with Aid4Mail. Then use the Import service in the Microsoft 365 compliance center to quickly bulk-import your PST files to Exchange Online mailboxes. See the Learn about importing your organization's PST files page for more information.
For more details, visit our How to Convert Mimecast Exports tutorial page.