This method is a lot more complicated and time consuming. But it's by far the best free solution on the Internet. It requires four programs: our free Converter Light, Windows Explorer, Windows Live Mail (WLM) and Office Outlook.
Start by installing Aid4Mail 5 and Windows Live Mail if you haven't already got them on your computer. You'll need to download Windows Essentials to install WLM.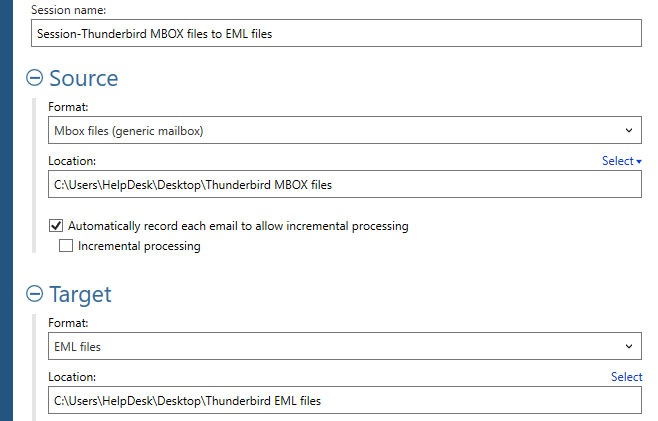 First, convert your Thunderbird files to EML with Aid4Mail Converter Light.
Open Aid4Mail 5 and select Converter Light under Free Edition.
Select MBOX files from the Source format drop-down list.
Next add your MBOX files (local Thunderbird files) to the list by clicking on Select and then either Folder or File.
Select EML files as your Target format.
Next select the Target location for the EML files using Select.
Confirm or change the Folder structure and File name options.
If you have multiple MBOX files in the source location, use the Folder section option under Filter to select only the MBOX files you want to process.
Once all your settings are correct, click on Run to convert your MBOX files to EML files.
After the conversion is complete, close Aid4Mail 5.
Then follow this 14-step procedure for converting EML files to PST. (This is based on Windows Live Mail 2012. Other versions may differ slightly.)
Open the Windows Live Mail program.
Select the Folders tab and click on the New folder icon to open the Create Folder dialog box. Type a folder name, select the folder in which it should be created, then click OK.
If you have multiple folders with EML files, repeat step 2 until you've recreated the folder structure of your source EML messages.
Select the target folder for your EML files in Windows Live Mail.
Select your EML files in Windows Explorer and then drag-and-drop them into the email list panel in Windows Live Mail.
Repeat steps 4 and 5 for every matching source folder containing your EML files.
When you're done, the contents of your target folders will match those of your source folders.
Now click on the dark blue tab with the "down" icon in Windows Live Mail.
Point to Export email in the drop-down menu, and then click Email messages.
In the Windows Live Mail Export wizard, click Microsoft Exchange and then click Next.
Click OK when you see this message:
"This will export messages from Windows Live Mail to Microsoft Outlook or Microsoft Exchange".
Choose your target profile name in the Choose Profile dialog box, and then click OK.
Click All folders to import all your messages, and then click OK. Or, click Selected folders, choose the folders that you want to export, and then click OK.
Click Finish when the Export Complete screen appears.
You should now see your mailbox folders and emails under Imported Folder in Outlook.
As you can see, exporting Thunderbird to Outlook without a professional conversion tool can be a cumbersome process. Sadly, it isn't always accurate either. In conversions using this free method, email contents can get lost. See below for details.
"Free" Often Includes Hidden Costs
When it comes to email conversion tools, you typically get what you pay for. While you may still choose the free method, you need to be aware of your potential risks.
Broken images. After migration with Windows Live Mail, photos, graphics and other images inserted in your messages now show up as broken pictures in Outlook. They aren't visible in the body of your emails (see screenshot below.)
Loss of SMTP headers. Using the free method, your emails will lose their original email SMTP headers (the top part of the email, where email addresses, subject and time stamps, and encoding marks are located). If you value the integrity of your messages, especially if you work in the field of computer forensics, this is a serious problem.
Time consuming. If you have many accounts to migrate, transferring your emails manually will take a lot of time and energy.
Note that it's not Aid4Mail Converter Light causing these issues. The loss of email data happens between Windows Live Mail and Outlook.
The screenshots below show the result you get using the free solution (left) compared to using Aid4Mail Professional (right):
It's true. "Free" may initially appear to be a cost savings, but when you factor in the hours it takes to migrate your emails—and the low-quality outcome—you may actually save money using a commercial tool.
Side-By-Side Comparison Between Free And Paid Version
The table below gives you a side-by-side comparison of Aid4Mail's commercial version and Aid4Mail Converter Light:
Aid4Mail's commercial version is unmatched in its accuracy and preserves more information during conversion than any of its competitors, both free and commercial.
No doubt, like our clients, you'll prefer the simple solution over this free method.