Aid4Mail is the best duplicate email remover on the market. Compared to competing tools:
Aid4Mail is faster.
More accurate with no data loss
Offers more control over the conversion process.
If you don't yet have a copy of Aid4Mail, you can use our free trial version to test it out.
Aid4Mail can remove duplicate emails from any of the email formats it supports. For example, Aid4Mail can remove duplicate emails from PST, OST, OLM, MSG, EML, Mbox, Maildir, Thunderbird and other email formats. Aid4Mail can also remove duplicate emails from Gmail, Microsoft, Outlook, AOL, Yahoo! and other cloud based accounts.
How do duplicate emails occur?
There are a variety of situations that could result in duplicate emails. For example:
·When an email client downloads mail from a POP mail server, and is set to leave mail on the server, the next time it fetches the mail it will be duplicated.
·Duplicates can result from copy/paste actions in a mailbox or in a folder of individual messages files (like EML or MSG files).
·Many mail clients organize email in folders but connect to mail services, like Gmail, that use the concept of labels rather than folders. As a single email can have multiple labels attached to it, after downloading it may be copied to multiple folders in the mail client.
How does Aid4Mail determine duplicates?
To determine if two emails are identical, Aid4Mail compares characteristics of their headers. The exact method used depends on the Generate hash value from option, under the Session section of the Options screen.
·If Generate hash value from is set to Original SMTP header then the headers of both emails must match in their entirety for them to be considered duplicates.
·If Generate hash value from is set to Message-ID header field, only the Message-ID fields need to match for the emails to qualify as duplicates. In cases where the Message-ID is empty or missing, as is often the case in outbound messages, Aid4Mail compares the From, Date and Subject header fields instead.
Aid4Mail's deduplication scope
By default, Aid4Mail only identifies duplicates that are in the same source folder. However you can widen the scope to detect duplicates wherever they are located. This is done through Duplicates detection scope in the Filter section of the Options screen.
Automatic removal of binary duplicates
There is an exception to the behavior described above. Target EML, HTML, PDF and plain text files, and any extracted attachments, will automatically be removed if both of the following conditions are met:
·They are binary duplicates of another file saved by the same session.
·They have the same name as the other file.
This feature avoids unnecessary file copies being created and taking up precious disk space.
How to deduplicate in Aid4Mail
When using either the Aid4Mail Investigator or Enterprise license, you can choose to skip duplicates using two different ways.
Skip duplicates in the Filter settings
If skipping duplicates and/or unpurged mail are the only item filters you require, the simplest way to do this is by turning on Skip duplicates in the Basic search section of the Filter settings. However, if you require additional search terms, you'll need to skip duplicates using a search query.
Skip duplicates using a search query
Aid4Mail makes deduplication very easy with a simple search term that uses the Type search operator:
NOT Type:Duplicate
The same search term can be written more concisely as:
–Type:Duplicate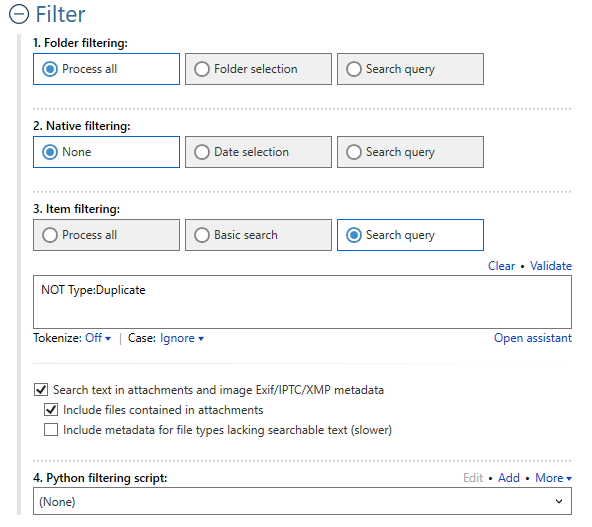 Both these search terms are identical in functionality and will eliminate all duplicates from your target mailbox. You only need to use one of them, placing it in the Item search query field in Aid4Mail. You can either write it in the field directly or use the Assistant to insert it for you (once the assistant is open, Select > Common search terms > Skip duplicates).
If you only want to remove duplicated emails from certain folders and subfolders, you can use the "Folder selection" option under "Folder filtering" to only select the folders you want to remove duplicates from.
That's it!
We hope you found this tutorial helpful in showing you why Aid4Mail is the best duplicate email remover. As shown above, Aid4Mail can remove duplicate emails from multiple PST files (from all Outlook versions) and other email file formats such as OST, OLM, EML, MSG, Mbox, Maildir and more.
Don't forget that we have been developing Aid4Mail for 20+ years and have helped many clients remove duplicate items from Outlook PST files, archival email data files exported from Mimecast and from all the other email formats Aid4Mail supports.
If you need to remove duplicate emails in Outlook folders from a PST, OST or OLM file, you can choose to save the emails in a PST file that can easily be imported into MS Outlook. Aid4Mail supports many additional target formats as well.
If you need an email duplicate remover tool, look no further than Aid4Mail!
If you're looking for more information, first take a look through the Aid4Mail 5 user guide and our knowledge base articles.
If you still have questions, don't hesitate to contact our award-winning Helpdesk.
If you'd like to buy an Aid4Mail license, please visit the online store.
Or if you'd like to try Aid4Mail first before purchasing, download a free trial and run your own tests removing duplicate emails. We want you to have full confidence in Aid4Mail!