October 12th, 2022:
As Yahoo!/AOL (both under Verizon) have now both disabled the ability to create app specific passwords to use with third party tools like Aid4Mail, it is not currently possible to collect accounts from Yahoo! and AOL.
We at Fookes Software are working on finding a solution but we are only in the initial research stages. We will update this article when we have new information.
UPDATE November 9th:
It looks like creating App Specific passwords is now working again with Yahoo and AOL accounts. The below work around with Thunderbird is thus no longer needed.
October 14th, 2022:
We have spent lots of time trying to figure out what is happening at Yahoo!/AOL (Verizon). Unfortunately it does not look like they want their email accounts being used in third party applications.
Here is what we have found:
1. Yahoo!/AOL (Verizon) no longer offer the app password option (if you try to create an app password, it states that the service is currently unavailable) to connect accounts to third party applications.
2. We got in touch with Yahoo! about this and they simply replied with the following: "We're very sorry app passwords are unavailable for your account. We don't have an exact ETA on when this will return, but we encourage you to check back in the near future. Rest assured, you can still access your mail from the Yahoo Mail app or via a web browser. We apologize for any inconvenience this may cause you. ". Also Verizon is no longer offering the option for third party applications to apply for OAuth2 credentials. We already tried this over a year ago and got denied as Aid4Mail is used for migrations, forensics and eDiscovery purposes.
3. We tried upgrading to Yahoo! plus mail (paid subscription) and still the option to create an app specific password does not work and states that the service is currently unavailable.
As you can see, it's basically a dead end when trying to get support or answers from Yahoo!/Aol (Verizon).
Now there are a few options we can suggest so that you can collect mail data from Yahoo!/AOL accounts:
1. You can ask the custodian of the account if they have any existing app passwords that you can use in Aid4Mail.
2. The only application we got to work with a Yahoo!/AOL accounts is Thunderbird (not needing an app specific password). It would seem that Yahoo!/AOL (Verizon) provided Thunderbird with OAuth authentication. If you connect the account to Thunderbird, Aid4Mail can process the local Thunderbird files that are created to whatever format you need. This is most likely the best work around for the issue.
We imagine that Yahoo!/AOL (Verizon) are fielding many complaints and questions on why the app-password option is no longer available and thus hope that they provide a solution soon.
Assistance with adding a Yahoo! (or AOL) account to Thunderbird:
Thunderbird is free to download. You can download it here: https://www.thunderbird.net/en-US/
When setting up the Yahoo! or AOL account, you need to make sure to use the export IMAP server as described here: RESOLVED – Yahoo!/AOL IMAP collection emails per folder limits
If you are unable to use the export.imap.mail.yahoo.com (or export.imap.aol.com) IMAP server when setting up the account, setup the account with the normal default IMAP server and then change it under the accounts "Server Settings" as shown here: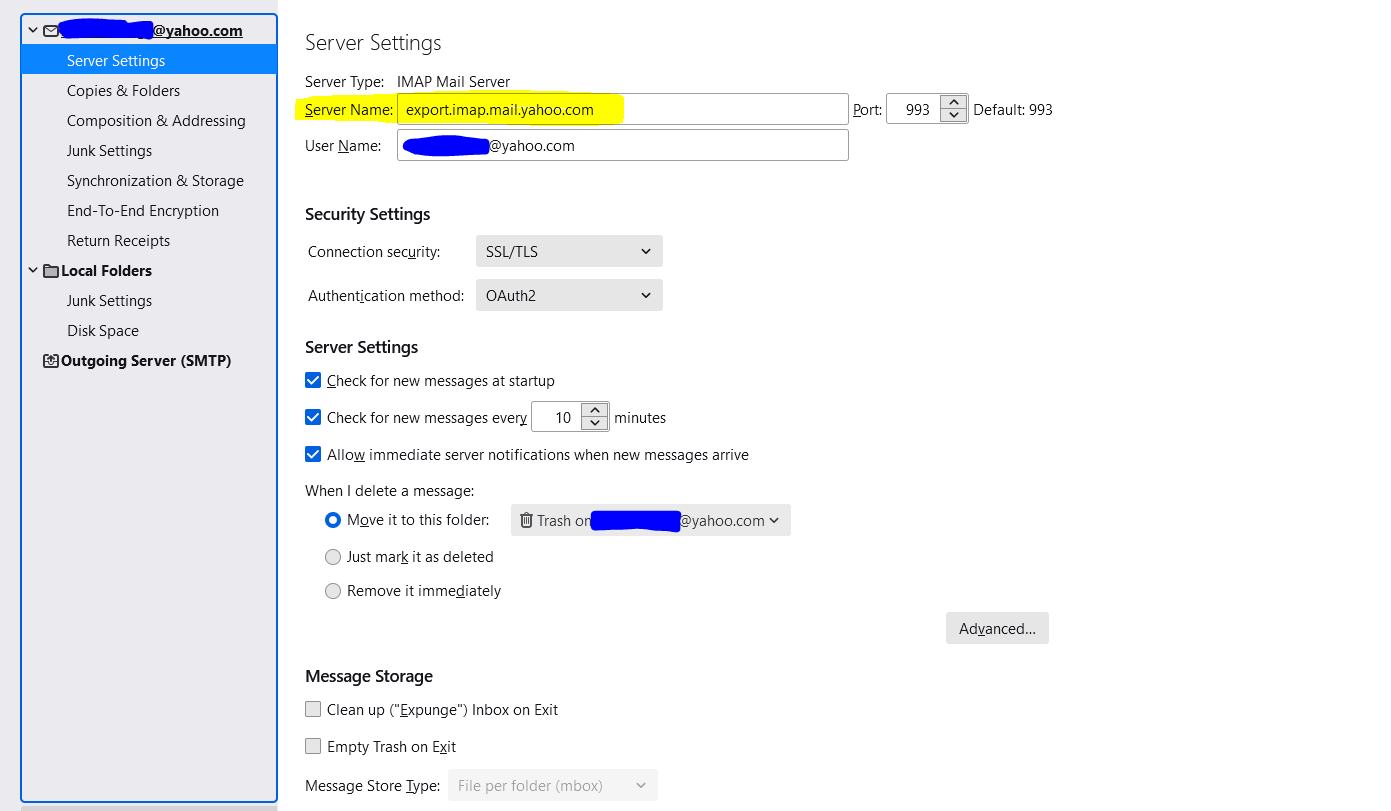 Once you add the Yahoo! account, you will of course need to wait for the emails to be loaded. The progress is seen in the footer of Thunderbird. Once the mail is finished loading and downloading, you can then find the mail data saved locally in the "Local Directory:". This information can be found under "Account Settings"|"Server Settings"|"Message Storage"|"Local Directory".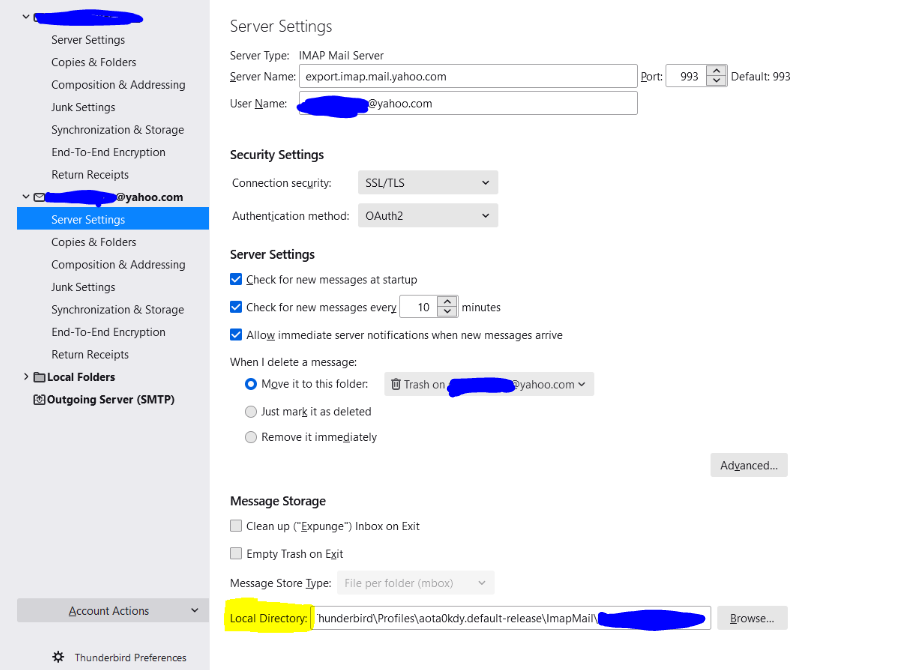 To be clear, it does take some time for Thunderbird to save all the emails locally. There is first the loading of all the emails into Thunderbird and then the saving of them locally.
To make sure all the emails in the account are saved locally, please make sure the option "Keep messages for this account on this computer" is checked. This is under Account settings then "Synchronization & Storage". Here is how it looks:
Once all the emails are loaded and downloaded locally using Thunderbird, you can select "Thunderbird" as the Source format in Aid4Mail and then point to the "Local Directory" of the account.
You can then process the Yahoo! or AOL account emails to the target format that you need.